1. Type
|
2. Model
|
3. Add-ons
|
4. Order
The history of the Black Iron Horse starts in 1998 at Vesterbro in Copenhagen. Opposite the old inn from the 18th century, Sorte Hest, is the workshop where the cargo bike with the unique rear wheel steering was developed. Since then, Black Iron Horse has become Black Iron Horse and the good craftsmanship has in addition to modern technology been combined with sustainable production.
The cargo bike has a unique rear wheel steering and you can easily manoeuvre around, while the electric motor and the automatic gearshift ensure you to slide easily and quickly through the traffic. The Pony is even produced and collected in Denmark and all materials is selected with the environment in mind. The box is therefore made of recyclable plastic and the steel for the frame is sourced in our neighbouring countries.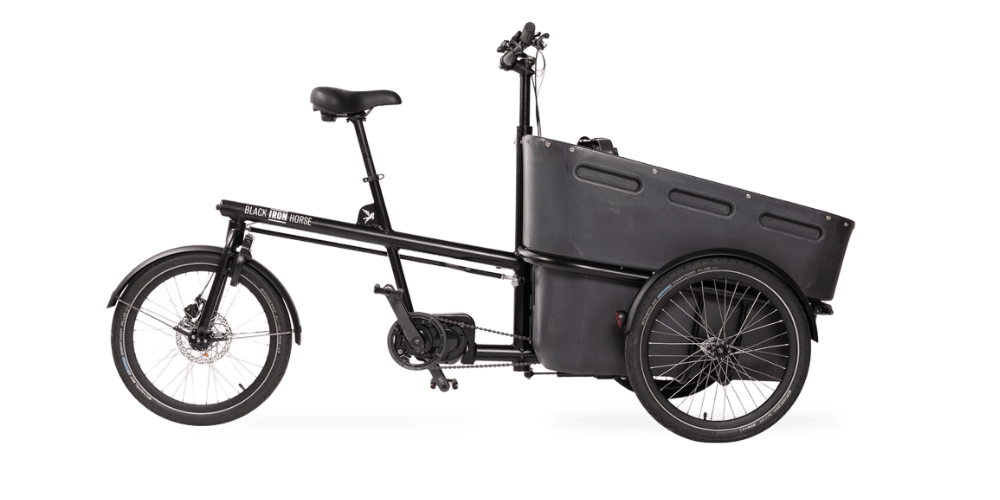 SPECIFICATIONS
Weight:
28 kilos (May vary depending on the equipment on the bike)

Measurements:
W: 86.5 cm x L: 202 cm

Electric motor:
On the Black Iron Horse (the pony) there is a Shimano center motor at the pedals – You can drive more than 40 km on one charge (It depends of course on wind and weather, and how much you step on the pedals yourself).
Manual or automatic transmission:
Automatic transmission (5 internal gears)
Brake types:
Hydraulic disc brakes on front and rear wheels + parking brake.

Space in the box:
There is room for two small children on the primary seat, and then you can choose to buy an extra "Playmate Seat" for a child, which is placed in front of the box.